Everything about Buying a Z3
updated September 29, 2007
---
Consumer Reports April 2006:
"CR's lists of Reliable Used Cars and Used Cars to Avoid include all models that showed above- or below-average overall reliability in our 2005 Annual Car Reliability Survey, in which subscribers to CR and ConsumerReports.org tell us about the experiences they've had with their vehicles from April 1, 2004 through March 31, 2005.
CR Good Bets and CR Bad Bets, derived from the longer lists, are models for which we have sufficient data for at least three years. CR Good Bets have consistently performed well in CR's road tests over the years and prove to have several or more years of better-than-average reliability. CR Bad Bets have shown multiple years of much-worse-than-average reliability. CR weights problems with the engine, engine cooling, transmission, and drive system more heavily than other areas.
There are 12 new entries on the list of 62 CR Good Bets. New entries include the BMW Z3 and Z4"

Must Read: Bimmer Magazine's Z3 Buyers Guide, December 2006

Check Emmy's Z3 Fixit Page on Z3ers.com for typical repair issues

Rick Zino posted on Z3Rides 9/27/07:
I just finished the search myself. I've owned the beast for over a
month now and that smile isn't fading. Here is/are a bunch of links I
used--hope they help,
-Rick
Good regularly updated listings:


Motor Trend Used Cars
www.carmax.com
www.cars.com
www.autotrader.com
www.carbuyersmarket.com
http://www.roadfly.com/bmw/classifieds/cars/
http://ww2.collectorcartraderonline.com/search.php
www.automallusa.net/04/bmw/z3/classifieds.html
http://www.automart.com/vehiclesearch_adv.php
www.automobilemag.com/classifieds/11/bmw/z3/index.html
http://www.automobilemag.com/am/1998/bmw/z3/classifieds.html
Pricing:
http://www.edmunds.com/apps/usedmatrix/UsedMatrix
http://www.nadaguides.com/
Carfax:
http://www.carfax.com/
And don't forget ebay:
www.ebay.com

For Canadian purchases:
Dwayne Eadie posted on Z3Rides September 29, 2007:
I live in Calgary, Alberta. My 96 z3 came
from the US. The prices are more reasonable in the US, especially with the
recent strength of the Canadian Dollar.
A good website to check on importing cars from the US is www.riv.ca
- the registrar of imported vehicles. With most cars,
there is an import duty, as the cars are not made in North America. The Z3
is made in South Carolina, and qualifies as duty free as a NAFTA product.
The registrar (above) charges a nominal fee ($200 + GST) to import the
vehicle as well as GST on the purchase price. For my Z3, the only
modification required provincially was to install daytime running lights and
to have an out-of-province safety inspection. The US customs requires 72
hour notice of the vehicle sale before you arrive at the border to check
that the vehicle can leave the US (not stolen..). There are services that will pick up the vehicle, clear both US and Canadian customs, and deliver the car to your home.
The process is pretty straight forward, and you can save thousands on your
Z3!


In Reply to: Finally Bought a Z3...Suggestions Please? posted by LenD on December 12, 2000 at 20:15:26:
Posted by PerryinVA on December 13, 2000 at 09:07:06:
updated June 23, 2007
First off thats a good price, for a CPO car. Congrats, you'll love it. Now for the nitty gritty. Make yourself a check list to take with you. In the excitement to get your hands on the car, you will NOT remember to check everything. I regret not doing this:
~Run a CARFAX check on the VIN. That would avoid some of the potential surprises, though it's not fool proof.
~At 39k, Inspec 2 should have been done, If not, get it done on the dealers ticket, make sure they flushed & bled brakes, and replaced anitfreeze. Its included.
~Obviously, recent oil change, (check level) and new air filter
~Was alignment checked, how is wear on tires. At 39k they should be recently replaced. Most don't get more than 25k out of OEM. Check em good, look for new weights, marks from old ones, to prove a new rebalance.
~Air Pump maintained?
~Condition of radiator, fittings and hoses (See Bimmer Z3 Buyers Guide, December 2006)
~ Check radio antennae for damage or loose fitting, easy for them, pain for you.
~ Run the windows up & down several times each. Watch how/when they auto shutoff, there have been a # of window regulator problems. If you hear the motor fighting to get the window down the last 1/2", that's the reason. Should be smooth and effortless. ~Check the top for leakage with a hose at dealer. INSIST on it. Check esp. where the top meets the a-pillars. (Usually all you need to fix the leak at the A pillars is some Gummi-pflege.)
~ Check rotors for glazing and wear, check pads. Ask to have front wheels pulled off to check if the wheels are two difficult to check thru.
~ Check for the infamous rocking seat rails. Some dealers don't bat an eye at replacing them, others give you "they all do that". My replacements (by dealer) are rock solid...no seat movement either braking or accelerating...big difference.
~ CPO should cover broken parts, including body damage. The front spoiler is friction riveted to the plastic engine spash guard. One really good hit on a curb and the mounting points are broken. Check under the spoiler, there are about 5 of them across the rear most edge.
~ Check the battery well for water in the well, if you have trunk seal, or trunk brake light leak, the water will collect there.
~ Make sure there is enough water IN the battery. Dealers rarely ever check the battery.
~ Check to make sure you have all your tools. There is normally one empty placeholder, for a wheel lock.
~ Window blanket.
~ Owners manual.
~ All four keys, (main, spare, valet, wallet). Keys are expensive.
~ Boot cover. Check inside boot cover snaps. If they are the old type, (brass clips) they will most likely be bent inside the hole, unless the previous owner never used it. My dealer gave me the new boot design with slotted mounts & spring steel clips. However, there is nothing really wrong with the old design, if you don't force the snaps on.
~ Raise and lower the top a few times, especially if a power top.
~ Check Rachels Esmerelda Z3 page for the missing plastic "U" clips. Mine is a 99 (bought used) and had 2 missing.
~ Check carefully around the rear window seal, inside & out.
~ When top is DOWN, check where canvas meets the body for tears or wear.
~ Raise and lower both seats & front to back.
~ Check glovebox for solid mounting.
~ Check heated seats, both mirror motors.
~ Everything on the stereo, each channel individual.
~ Look carefully at the underbody of the car. Mine had BOTH of the rear tire air dams (8"x2" plastic pieces about 12" in front of each tire) broken off. They were $25 a piece to replace, and DO reduce tire noise.
~Also under the car you want to look for cracks in the sub frame- rear floor failure

Even though you're not a mechanic, you can go over this list with one at the dealer, he should know about all of them. I'm sure there are others, yada, yada, yada, YMMV, etc.


---
---
Z3 buyers came since September 28, 2007 (guess we're still in demand!)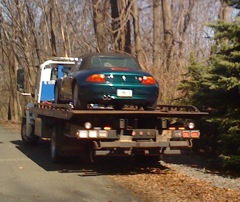 Esmerelda's Pages ~ Z3ers.com