It's been a long time. (archive)
---
Posted by ///mtavel on November 25, 2000 at 13:48:17:
(posted from: rr-26-92-127.atl.mediaone.net (66.26.92.127))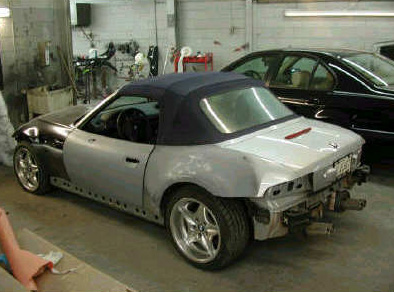 Hello everybody! I've missed you guys -and gals ;)
Well, it all started at the end of August... My girlfriend and I (of about 5.5 years) broke up. It came as somewhat of a surprise to me and I didn't take it very well. I went driving when I shouldn't have and I wasn't carefull. I ended up taking a trip offroad (had scrubbed off a LOT of speed before leaving the road) and did some damage to the driver's side door (with a utility marker). All else seemed OK with the car, just some cosmetic damage.
I had reservations for the two of us to go up to homecoming in a few weeks but with a damaged car and 1/2 of the party missing, I really wasn't feeling up to it.
After talking to a good friend that I met through some Z3 gatherings, he convinced me that no one would care about how the car looked and they wanted me to be there. It wouldn't do me any good just sitting at home feeling bad anyway. I decided to go.
On the way up there, it was raining pretty bad, on and off.
It started raining VERY hard, I reduced my already conservative speed even further. There was a bit of pavement where new paving ended and there was a lip to the old pavement below. The lip made for a nice retaining pond and I felt the rear of the car lift and rotate counter clockwise. (Thank you Dunlop)
One of those slow motion/life-flashing-before-your-eyes sequences started. The car was sideways by the time I left the side of the highway. I went down an embankment and into a stand of trees (ew). I hit and snapped 2 pine trees, one with the drivers side door. It all happened so fast.
The car held up marvelously. The driver's door still opened and closed. The glass in the driver's window broke out, cutting me a bit and cutting the leather in my seat. There was cosmetic damage on almost EVERY body panel on the car. The radiator support was damaged and replaced. The hood was replaced, the LR fender was replaced. Front and rear bumpers were replaced. Dinan CAI was replaced (tube cracked), radiator and A/C condenser w/fan were replaced and my exhaust was replaced with AC Schnitzer... that bit was just for fun, not repair :) The car went into the shop on Sept 4. My Xenon upgrade from Phoenix Microlite held up beautifully. As did my Dinan suspension, thankfully. They checked it out thoroughly and they said it is as straight as a rail. I still don't have it back yet. Next week, hopefully.
I'm still not feeling great about the way things are. I didn't feel like checking the board either. Driving the Pontiac Grand AM rental hasn't been helping matters either. I just wanted stop back in and say hello and update everybody. I hope my car is OK when I get it back. I'll be sure to post pictures upon it's return. For those of you who actually took the time to read all this, thank you :) I hope to see you soon at a Z3 event, since I missed the big one.
Michael Tavel
---
---